ENERGYMAX SILICONE ROOF COATING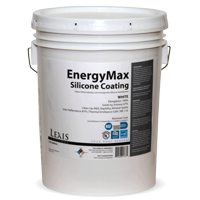 1. Product Name

ENERGYMAX SILICONE ROOF COATING
2. Distributed by EPDM Coatings
494 Bridgeport Ave Suite 101, PMB 342 Shelton,CT 06484-4748

URL: www.epdmcoatings.net
3. Product Description
EnergyMax is a 97% volume solid solvent based system allowing for cross-linking to occur on the substrate it is being applied on. The product has zero organic content therefore it does not become a food source for mold and mildew. Containers are filled with dry nitrogen gas to prevent premature cure.
Breathable membrane has exceptional weathering characteristics, prevents moisture entrapment and premature roof failure.
Not affected by ponding water.
May be used for potable rainwater catchment applications. See listing at nsf.org for application and cure instructions for rainwater catchment use.
Reflective roof coating reduces cooling costs. An excellent top coat for EnergyMax Aromatic Polyurethane.
Complies with all of the requirements of ASTM D 6694-08 and -07 Standard Specification Liquid-Applied Silicone Coating and ASTM C1305 Crack Bridging Ability.
Easy to use, non-toxic and VOC-compliant silicone roof coating.
Coverage is 525 sq ft per 5 gallon pail
Advantages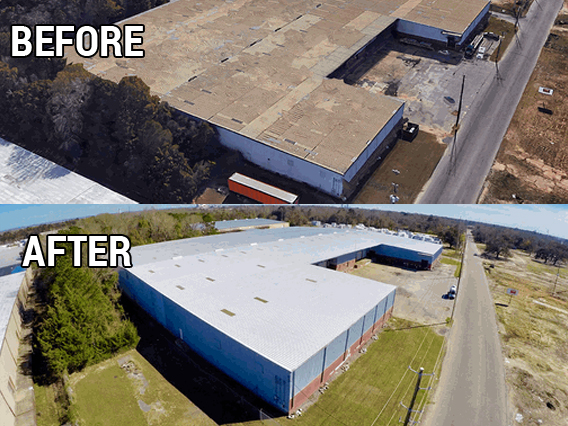 Provides a seamless, durable membrane.
Not effected should nighttime temps go below freezing will continue to dry once it gets above 50F
Will withstand temperatures -80°F - 350°F
Exceptional weathering characteristics.
Resists ozone and harsh chemicals.
Maintains flexibility even in extreme temperature ranges. Breathable membrane prevents moisture entrapment.
Heat reflective coating helps reduce cooling costs.
Reflects the sun's UV-rays and prevents premature degradation.
Prevents premature roof failure by controlling thermal cycling.
Minimum dry film thickness loss over time from original 15 mil to 13 mil over 15 years
Outstanding waterproofing over the entire life of the product
4. Technical Data
Additional product information is available from EPDM Coatings.
This product data sheet conforms to the editorial style prescribed by The Construction Specifications Institute. The manufacturer is responsible for technical accuracy.
ENERGYMAX® SILICONE ROOF COATING TECHNICAL DATA
Property
Value
Method
Clean Up
VM&P Naphtha, Mineral Spirits
Coverage
1.25 gal/100SF yields 15.36 dry mils.
Up to 1.25gal/100SF per coat. 2 coats, 25 - 30 dry mils recommended.
45 mils for NSF approval.
Cure Time
Min 2 hours @ 100°F - 90% humidity.
Max 8 hours @ 40°F - 20% humidity.
Tack Free within 1 hour (Depending on humidity and temperature)
Elongation
249% ± 50
ASTM D-2370
Emissivity
0.90 (3 years) White
ASTM C-1371
Flash Point
290°F
ASTM D-92
HMIS
Health 1, Flammability 0, Reactivity 0, Protection X
Hardness
50±5 (Shore A)
ASTM D-2240
Packaging
5 gallon pail, 50 gallon drum
Permeance
9.3 US Perms (Procedure B)
ASTM E-96
Reflectivity
0.70 (3 years) White
ASTM C-1549
SRI
110 Initial
Shelf Life
6 Months (Unopened Containers @ 35°F - 75°F)
Solids by Volume
96% ±2
ASTM D-2697
Solids by Weight
96% ±2
ASTM D-1644
Tack Free
1 hour (Depending on humidity and temperature)
Tear Resistance
26 lb f/in @ 73°F (Die C)
ASTM D-624
Temperature Stability Range
-80°F - 350°F (-37°C - 177°C)
Tensile @ 100% Elongation
Nil
Tensile Strength
325 psi ± 50
ASTM D-2370
VOC
< 50grams/liter
EPA Method 24
Viscosity
4800 - 9000 cPs
Brookfield RVF
Water Absorption
0.1 weight % after 2 weeks @ 75°F (24°C).
ASTM D-471
Weathering / UV Resistance
No degradation after 5000 hours.
ASTM G-6694
Key Benefits Of EnergyMax
Withstands ponding water 365 days a year
NSF for potable drinking water
Coverage is 525 Sq ft per 5 gallon pail
EnergyMax is a Contractor Grade line of products
Product is shipped directly from factory within days of being manufacturer VS being stored on shelves for months
EnergyMax is a Moisture Cured product and waterproofs immediately upon application
For those that don't have the budget for both the primer and EnergyMax you can primer now at a 10-15 mil and come back within two year to apply the EnergyMax!
Working time is 3-6 hours depending on humidity and thickness being applied
Freight Classification: Paint - Flammable Liquid (UN 1263 Red Label Required)
Warning:EnergyMax Silicone Roof Coating contains solvents. Keep away from open flame, heat or sparks. Pumping equipment should be grounded to avoid accidental ignition due to static sparks. Use only in ventilated areas and provide mechanical ventilation in enclosed spaces. Avoid breathing vapor or mist. Approved (MESA/NIOSH) chemical respirator and protective clothing must be used when exposure can exceed recommended PEL. Fresh air hose masks required for interior applications. Care must be taken to prevent rooftop HVAC from introducing solvent vapor into interior areas. EPDM Coatings must be completely dry before exposing to water or foot traffic. Keep EPDM Coatings containers covered when not in use. Dispose of all containers in accordance with state and local environmental regulations. Keep away from children. If ingested, DO NOT induce vomiting. Call physician immediately.
Product information contained herein are presented in good faith and believed to be reliable. They do not constitute part of our terms and conditions of sale. It is also not a guarantee, either expressed or implied, that the data are correct or that products described are merchantable or fit for a particular purpose as methods of use are beyond our control. Product must be stored in climate control area and shelf life is 9 months from the date of purchase. Customer should determine the suitability of our materials and installation recommendations before usage. Manufacturer's sole responsibility shall be to replace that portion of any product that proved to be defective.
This product data sheet conforms to the editorial style prescribed by The Construction Specifications Institute. The manufacturer is responsible for technical accuracy.
5. Installation
Ready to use. Thinning is not necessary. Mix well before using.
Roof must be clean, dry and free of any oil, grease, dirt or loosely adhered coating.
The product waterproofs immediately upon application
Product should be applied when temperatures are 45F and above
Bare surfaces must be prepared and checked for compatibility.
Follow our roof restoration procedures and always perform an adhesion test.
EPDM Coatings recommends subsequent coats to be applied with 24 hours.
Equipment: brush, roller, spreader or a 4000psi, 3gpm airless sprayer with a .031 tip. Use BUNA-N jacketed hoses for moisture protection. Do not leave coating in spray guns, hoses and pumps for prolonged periods.
Follow our and roof restoration procedures and always perform a coating adhesion test before doing the entire roof.
Brush: Good quality synthetic bristle brush.
Roller: Long nap roller.
6. Availability & Cost
EnergyMax Silicone Roof Coating is available directly from EPDM Coatings and our authorized distributors.
7. Warranty
On pre-qualified and registered applications completed by EPDM Coatings-approved contractors, long term warranties are available. Contact EPDM Coatings for warranty information.
8. Maintenance
Read our Care and Maintenance Guidelines.
9. Technical Services
Contact EPDM Coatings for technical support.