Eternabond Webseal Seam Tape
---



1. Product Name

Eternabond® Webseal

2. EPDM Coatings

P.O Box 3429, Wernersville PA 19609, EPDM Coatings N.E Sales Office, 494 Bridgeport Ave Suite 101, PMB 342 Shelton,CT 06484-4748 URL: www.epdmcoatings.net

3. Product Description

Eternabond® WebSeal Roof Seam Tape has advanced MicroSealant Technology to seal roof joints (seams) and tears, flashings, copings, skylights and gutters permanently prior to the application of roof coatings.

Basic Uses

Built Up Roofing(BUR),Concrete Roofs, Metal Roofs, Modified Bitumen, Polyurethane Foam, Single Ply Roofing (EPDM,PVC, TPO).

Roof repairs. Any roof seam, flashing, penetrations or joints that require sealing prior to coating application.

Advantages

100% solids formulation of synthetic resins, thermoplastics and non-curing rubber (non butyl) with a built in primer, bonded to a woven polyester backing for maximum conformability.
Designed not to harden under even the most rigorous conditions.
Perfect for repairing and restoring roofs on mobile homes and RVs.
Extremely flexible, with no memory, so WebSeal conforms to virtually any shape without springing back.

4. Technical Data

See table on the following page.

5. Installation

All surfaces to be coated must be clean, dry and free of any oil, grease or dirt.
Oil, grease, & other contaminants should be removed with a suitable solvent/cleaner. Use of EternaPrime reduces clean up.
For older plastic roofs, score surface with sand cloth and wipe away dust.
Install Eternabond® WebSeal over the repair area, removing the siliconized plastic release liner gradually to prevent contamination of the adhesive prior to application.
Rub or roll with pressure with hand or steel roller to activate bonding process.
This material may be applied to clean dry surfaces from -20°F to 150°F.
Treat surface with EternaPrime for installations from 40°F to -20°F. A topcoat of roof coating is necessary for UV protection.

6. Availability & Cost

Eternabond® Webseal seam tape is available directly from EPDM Coatings and from online distributors. Contact EPDM Coatings for pricing information.

7. Warranty

Warranty information is available from the manufacturer.

8. Maintenance

Periodic maintenance of EPDM Roof Restoration System ensures extended service life and maintains reflectivity.

9. Technical Services

Contact Eternabond for Technical Support. Additional information, product literature, brochures, and specifications are available.

10. Filing Services

Additional product information is available from Eternabond.
This product data sheet conforms to the editorial style prescribed by The Construction Specifications Institute.
The manufacturer is responsible for technical accuracy.
Eternabond® Webseal Seam Tape Technical Data
| Property | Value | Test Method |
| --- | --- | --- |
| Sizes | 2", 3", 4", 6", 8", 12", 24", 36" wide, 50' long. | |
| Packaging | 100 sf per case | |
| Thickness | 30 mils (1mm) | |
| Adhesion | 19 lbs/in width | |
| Low Temp Flexibility | Excellent | |
| Elongation | >500% (adhesive) | |
| Pliability | No cracks in membrane. | |
| Water Vapor Test | .005g/100"sq 24 hrs @ 100°F | ASTM 96B |
| Shelf Life | 5 years | |
| Service Temperature | -20° to 180°F | |
Product information contained herein are presented in good faith and believed to be reliable. They do not constitute part of our terms and conditions of sale. It is also not a guarantee, either expressed or implied, that the data are correct or that products described are merchantable or fit for a particular purpose as methods of use are beyond our control. Customer should determine the suitability of our materials and installation recommendations before usage. Manufacturer's sole responsibilty shall be to replace that portion of any product that proved to be defective.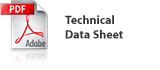 This product data sheet conforms to the editorial style prescribed by The Construction Specifications Institute.
The manufacturer is responsible for technical accuracy.